Why Andaman Islands?
If you can imagine being greeted by the sweet babble of wildlife, reverberating from lush tropical rainforests and the wise tranquility of the teal-tinged ocean, you will know you have landed on the magical Andaman and Nicobar Islands. This volcanic chain of 572 islands have evolved far enough from other landmasses to foster its own unique identity in the form of wildlife and vegetation that are found nowhere else in the world. For many years, researchers, explorers or rather anyone with a sense of adventure in their hearts, have gravitated towards these islands in a quest to discover something new, which is very rare in this time and age. They also attract people like us who want to wind down from their stressful lives in the concrete jungle and soak in pure unadulterated nature. Being on the periphery of the coral triangle, these islands are also blessed with some of the most diverse and vibrant coral reefs in the world, thus giving us some truly spectacular diving. The Andaman and Nicobar Islands may as well be one of the last frontiers for our country, still raw and unexplored, waiting for adventurous souls like you!
Best time to visit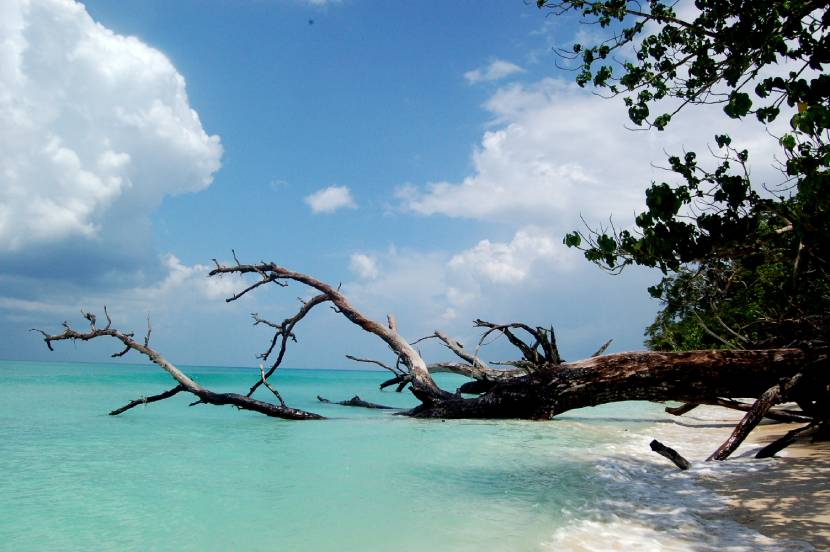 The Andamans have a tropical climate that receive rainfall from both the Northeast and Southwest monsoons. While the tourist season runs between the months of September and May, you can technically visit the islands all year round. The southwest monsoon brings very heavy rainfall to the islands in the months of June, July and August, which are considered the off-season months but can still be dived and are great for those who prefer a quieter holiday. Certified divers who wish to dive the more advanced premium sites, must consider planning their trip in the months of March and April when the wind is calm and seas are flat.
Getting here and getting around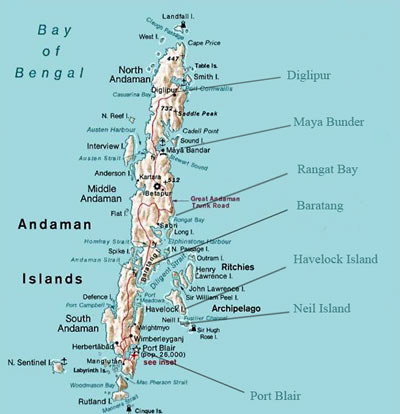 Flights:
The Veer Sarvarkar airport in Port Blair is currently the only one on the Islands and is connected to most major cities on the mainland. It is always better to book your flights well in advance to get good rates. Although most flights are connecting, there are a few direct flights from major cities like Mumbai, Delhi, Bangalore, Chennai and Kolkata which we personally recommend booking if available.
Ferries:
Once you've reached Port Blair, there are multiple ferry operators that connect you to Havelock and Neil islands, where we have full-scale dive centers. The government ferry is basic and cheap but it is next to impossible to get a ticket and they take much longer. Reliable and comfortable private operators such as Makruzz, Nautika, Sea Link etc. cost somewhere between Rs 1000-2000 and give you the advantage of online pre-booking and a much faster journey (1-2 hrs).
Rentals and public transport:
Scooter and cycle rentals are available on the islands to get around. A scooter might cost Rs 500/day. There are also frequent buses running from the Jetty to Radhanagar and Kalapathar beaches which cover the two major routes on Havelock. You can also opt to hire cabs or rickshaws to move around but they are a bit expensive on the islands.
SCUBA Diving
Discover Scuba Diving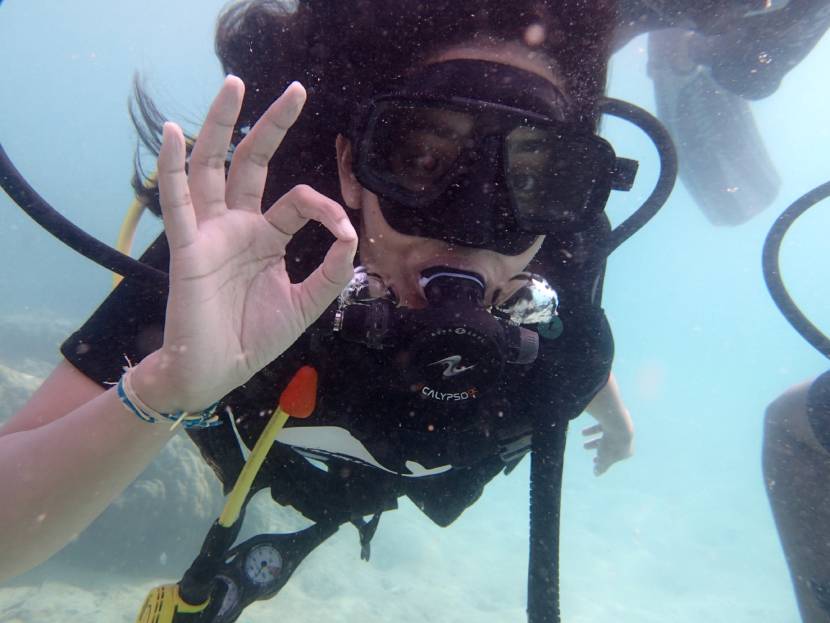 The wonders of the ocean are for all to see! Swimmers as well as non-swimmers are invited to take up the Discover/Try Dive program designed for first-timers who are short on time. Divers will be accompanied by professionals in a safe 1:1 ratio. This short 3-hour program includes a brief skill session in chest deep water to get you comfortable, followed by a dive off the boat at one of the fantastic shallow sites around the island. You can read more about options for discover diving here.
Diving Courses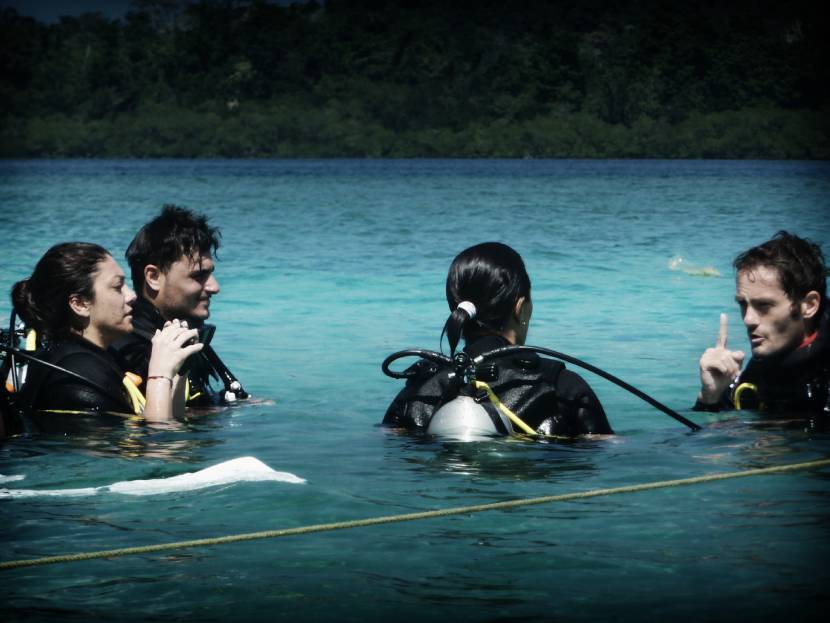 If you have the time and are keen on learning how to be a fish in the water, you must consider getting your beginner Open Water (OW) certification. This four-day course comprises of the theory of diving, confined skill sessions and four open water dives. On completing it, you get a lifelong license to dive unassisted anywhere in the world. We also recommend doing the level-2 Advanced Open Water (AOW) course together along with the OW which consists of five dives over two days. This allows you to get more dives to practice what you have learned in your OW while it's still fresh and also lets you experience a variety of diving conditions to make you a more confident diver. The only prerequisite for doing these certification courses is the ability to swim comfortably. For advanced certified divers we have the Rescue Diver course that teaches you how to manage and respond to stressful emergencies while diving. It is a very rewarding course that greatly improves your confidence and comfort as a diver. This is also often paired with the day-long Emergency First Response course that teaches you how to respond to medical emergencies on land. For more information on our diving courses and how to book them click here.
Fun Dives and Specialty Courses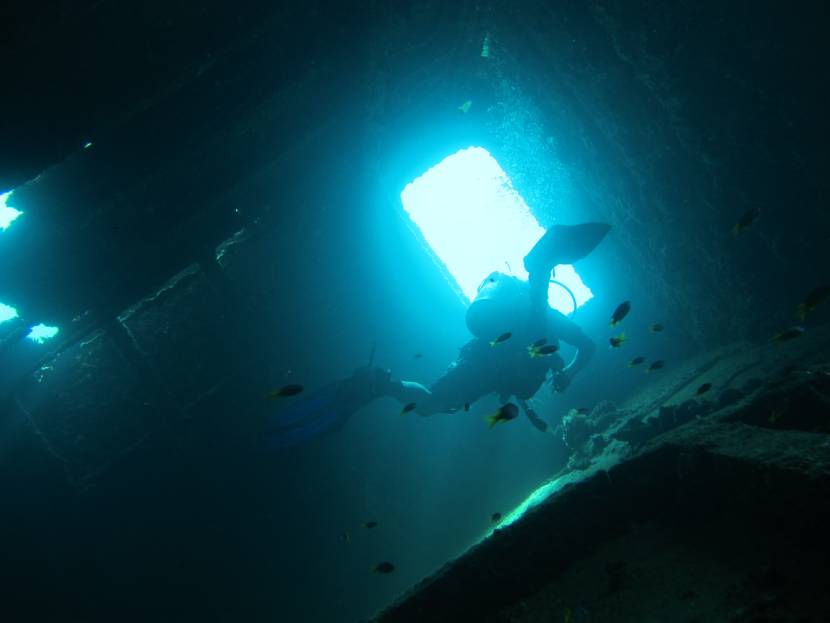 The Andamans boasts some of the most breathtaking diving in the world. Premium sites like Johnny's Gorge, Dickson's Pinnacles, Jackson's Bar and Whitehouse Rock are known amongst certified divers to be underwater utopias swarming with massive schools of fish and huge cruising pelagics. While fun diving we also have a range of specialties to enhance your fun diving experiences and skills as a diver that include Deep Diving, Nitrox diving, Peak Performance Buoyancy and more. For those who want to make their diving experiences more enriching by expanding their understanding of marine ecosystems, we have naturalist specialties that range from an intensive Fish ID course to marine and coastal ecology courses. If you are a certified diver and want to know more about fun diving with us, click here. If you want to check out our list of specialty courses click here.
Professional Training
A wise man once said 'Choose a job you love and you'll never work a day in your life.' That's how all of us dive instructors and divemasters at the dive center feel at the end of every day! Wouldn't you love going to an office that is a coral reef and having fish for colleagues. You can sign up for a Divemaster internship at the dive center which is the first professional level of diving. It is perfect for certified divers who have a few dives under their belt and have explored their love for diving enough to know they want to introduce others to it. If you are a complete newbie but are determined about your love for the ocean, we can bring you up to the level needed to start your divemaster course. You can complete the course and dive requirements for the Divemaster course by opting for the Zero to Hero program. All you need to know is how to swim. If you want to know more about this professional course, click here.
Freediving
Freediving is a completely different way of experiencing the ocean. It allows you the bliss of experiencing true silence underwater and the overwhelming feeling of being one with the ocean and marine creatures in a way that nothing else can. It is the art of holding your breath and diving down into the blue without the weight of equipment. A practice that is not just physiologically and psychologically challenging, but also rejuvenating at the same time, freediving is likened by many to meditation. There are a variety of experiences you can opt for based on your interest from the short Try Freediving program to the Freediving Level 1 course. It is an experience that is a must-try for all divers and water babies. The only prerequisite is the ability to swim comfortably.
Marine Ecology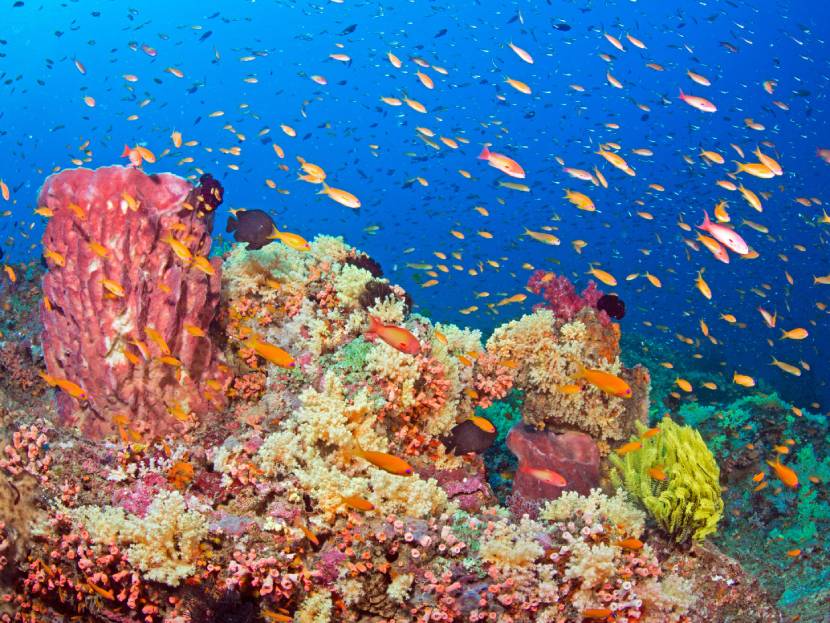 Island ecosystems are very unique in terms of not just their topography and landscape but also their flora and fauna that has evolved in isolation for so many years. Here you find dense tropical rainforests, idyllic littoral forests, mysterious mangrove swamps, lively intertidal zones and beautiful coral reefs, all together in a 100-meter radius. These are very distinct ecosystems that hold a large diversity of species many of which are endemic i.e. found nowhere else in the world. We have specially curated courses and programs designed to introduce these ecosystems to you in a fun and educational way, so that you can leave the islands with a much deeper and more wholesome understanding of its ecology and what affects them. We have in-depth courses that allow you to deep dive into topics such as Fish Identification, Marine Ecology and Coastal Ecology. If time is a concern, you can also sign up for a some of our interesting naturalist walks and talks.
Medical Clearance to dive
Clearing the diving medical form is a very important step in booking your diving activities with us. You can download it here and go through it. If you have answered 'no' against all conditions on the form, you are good to go. But if there is a 'Yes' against any conditions mentioned on the form you will need to get a fitness certificate from the respective doctor, clearing you to dive. If you have a 'yes' on your form but have not carried a doctor's clearance on your visit, we will not be able to take you diving as there are certain conditions that are highly risky for scuba diving. You can get in touch with us to clear any doubts regarding the medical form.
What to do when not diving?
Snorkeling
Snorkeling is a fun relaxing activity and a good way to explore the beautiful shallow reefs around the island. We have guided snorkeling programs from the shore as well as off the boat for first-timers and non-swimmers. There are also multiple spots on the island a seasoned snorkeler could visit including our home reef off the Sea Shell Resort beach and Radhanagar beach. We would only recommend going snorkeling by yourself if you are a competent swimmer.
Island Hopping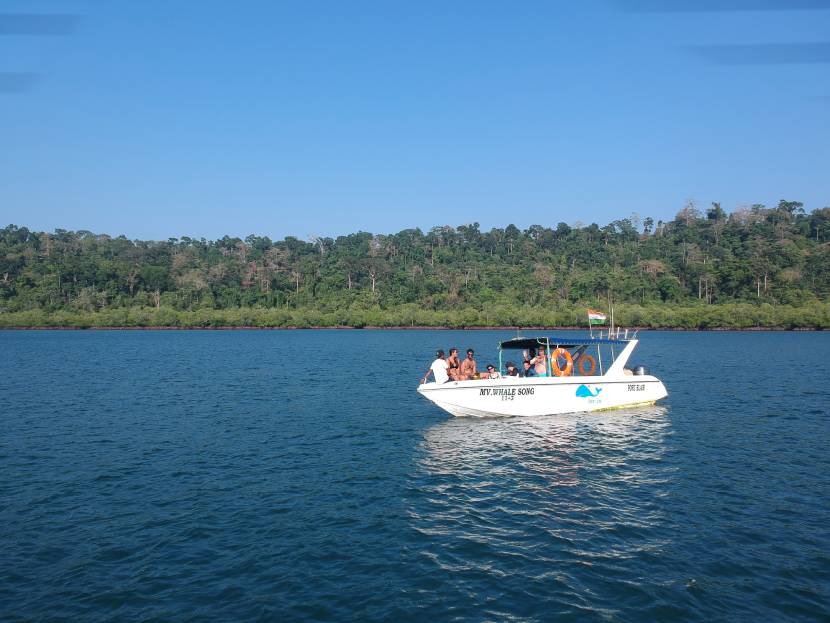 Island hopping is one of our most popular excursions wherein we explore secluded reefs around the island by boat, with thriving corals and beautiful views of the island's pristine white sand beaches. Here you can have packed lunch on the boat, snorkel to your hearts content and explore mangrove channels, returning only with the setting sun. This afternoon program is a hit with not just non-swimmers but also divers looking to wind down after their dives.
Kayaking and Stand-up Paddle Boarding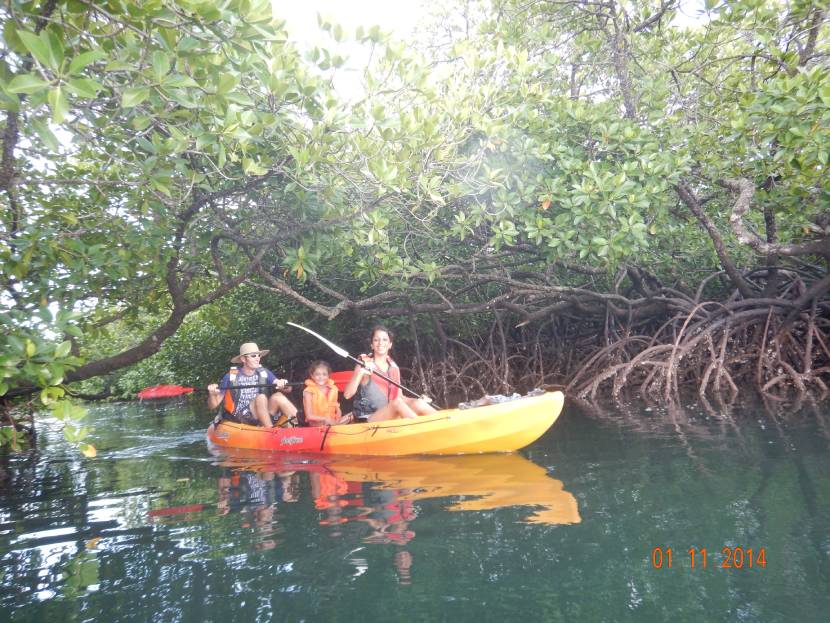 What better way to explore the island's mangroves and shallow reefs from the surface? While kayaking involves the use of a small canoe like boat, paddle boarding uses a long board, both propelled by hand-held paddles to move forward. We offer kayaking and paddle boarding excursions based on the weather and tides. Kayaking at night is a mind-blowing experience as the islands are lucky to have bioluminescent plankton all year round.
Visit Beaches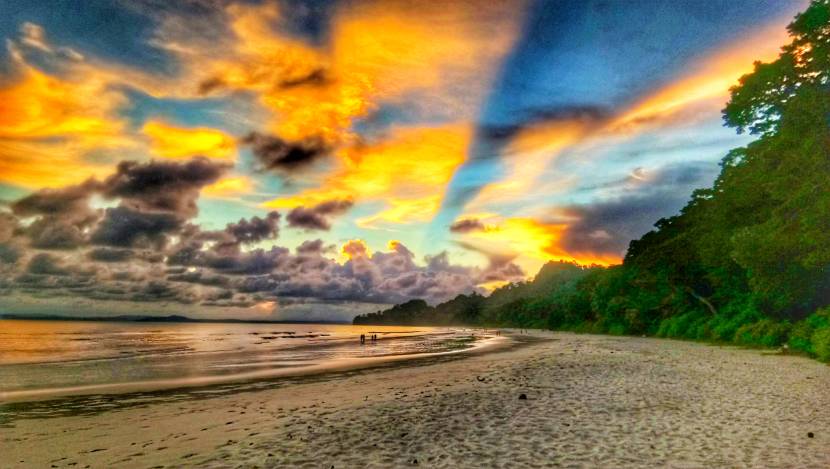 The Islands are known for their beautiful white coral sand beaches and turquoise blue waters. Havelock is one of the few islands that has great access to the sea and swimmable sandy beaches. One of the best sunset beaches being Radhanagar which has a wide and broad coastline with small playful waves against the backdrop of a looming mahua forest. Kalapathar beach is another beautiful sunrise beach to visit. The journey to this beach is a narrow winding road that hugs the coast and is as beautiful as the destination. Littered with fallen mahua trees and their giant roots, elephant beach is another must see. The only way to get to this beach is by a local ferry or by a 45 min hike through the beautiful Andaman rainforest. We also run boat snorkeling excursions to turtle beach which is a few minutes off elephant beach and much more secluded. Read more about the island's must-do activities here.
What to bring and how to pay?
These tropical islands are blessed with abundant sun and so sun-protection is of utmost importance. It is more than enough if one is equipped with a hat, sunglasses, light clothing with coverage and rash guards/surf tops for getting in the water. We strongly discourage sunscreens as they are very harmful for the reefs unless they are reef safe. Remember to pack your swimming costumes, flip flops and a light rain jacket for when the island decides to be unpredictably grumpy. Last but not the least we urge you to carry your own reusable bottle instead of buying plastic bottles and adding to the waste management problem on the island.
As for connectivity and payments, the network has become much better on the island and networks like Airtel and BSNL have working 4G internet in most parts of the island. This is great for making payments but we would still encourage you to carry cash as backup incase the network drops. We would also recommend booking things in advance as ferries, hotels and activities tend to run full during the season.
Where to stay?
The Island has many accommodation options for every budget. If you are diving with us, the first recommendation would be the Sea Shell Resort which is where our dive shop is located. This elegant but rustic beach resort not only has private beach access but is also very conveniently located, being a mere 5-minute drive from the market and jetty and 0 minutes from the dive center. You can literally roll out of bed and onto the boat for exciting early morning dives. There are also many other comfortable pocket-friendly options ranging between Rs 1000 to Rs 3000 a night depending on the season. You can always get in touch with us for recommendations based on your budget. Our advice would be to book your stay well in advance as the good places get fully booked months before.
Watch out for…
Small time agents who will try to accost you as soon as you land on the island. They will offer to book all your activities for you and are inclined to provide misleading information as they get huge cuts out of what you pay for your activities. It's better to do your own research and choose credible diving operators who value safety above all else. There are many small dive operators on the island who might compromise on equipment and other safety aspects of diving without your knowledge.
Travel Responsibly
Tourism has been seeing an ever-increasing footfall on these fragile islands. With more and more people visiting the islands it has become very important to travel responsibly and be sensitive to its environment. You can make sure your visit is gentle on the island's ecosystem by doing small things like carrying a reusable water bottle and cloth bag to make your trip low-waste and using resources like water and electricity sparingly. Check out our complete guide on responsible travel here and tips on creating a zero waste kit for your trip here.